Often when discussing the topic of IQ with liberal, guilt ridden and sensitive people (of any color) I will hear how inaccurate IQ is for determining success. Actually they do have a good point when they say that IQ really isn't everything! (As I mentioned in my post called "The problems with intelligence testing and their many confusing correlations. Part 1", there are problems with just taking a narrow view of what makes a person successful.)
I would have to say that up until now though, my entire series on the subject of IQ (From correlations with intelligence , intelligence vs. education, correlations with IQ and hormonal levels moderating behavior, the link with obesity and it's link to low IQ, as well as adding
emotional
quotients or EQ as a marker of success
) has ended pretty badly for the dark and overall low IQ races, especially the blacks.
In fact, liberals and their perpetual propaganda of equal rights (based on forced fairness and racial equality, as well as a misunderstanding of the intentions of the constitution. . .) seem pretty much left without excuse, when you take science like DNA into count especially. (Meaning all the exceptional and high IQ or successful dark people are mixed with white.)
While
Liberals and the scientists in their back pockets
love to claim that "Cognitive and social skills are not fixed at birth, that they are not solely genetically determined, and that they can be enhanced". . .
Source
When it gets down to it, This just simply is not true.
Genetics
do
determine everything. . .
if
you are a purebred white, or black person,
just as is the case with dog breeds. (The confusion comes from all the bi-racial "mutts" of the world.)
A poodle will always act like a poodle, and a boxer will always act like a boxer, unless they are a mix like the picture here. Some in the litter may only look like one parent, while acting like the other, as opposed to this obvious mix. Anything goes with behavior and looks with mixed breeds. . .same thing for races.
The blacks of the world have highly selected for white genes, even when the whites are long gone, or a mixed black just moved in. Consequently, due to the nature of selection for "good" genes, there are very few unmixed blacks in the world now. . .resulting in skin conditions like this, and any IQ or behavior.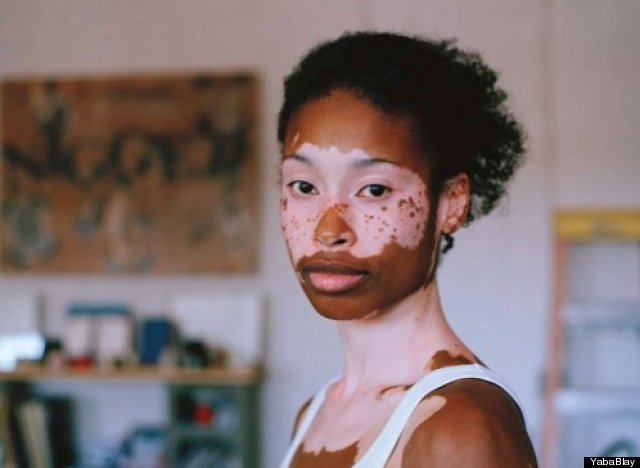 On the other hand, only 5% of white looking people are a mix with African blood in them. . .most being found in redneck areas or places in Europe known for poverty or violence. (As I have discussed in a post here.)
Back to the topic though; as liberals love to point out, besides intelligence and emotional quotients (two inherently white race characteristics -that surface also in mixed people) there are other things that measure your chance to succeed in a "white man's world".
To quote a Forbes article:
"instead of exclusively focusing on your conventional intelligence quotient, you should make an investment in strengthening your EQ (emotional), MQ (Moral), and BQ (Body). These concepts may be elusive and difficult to measure, but their significance is far greater than IQ. . .A person with less education who has fully developed their EQ, MQ, and BQ can be far more successful than a person with an impressive education who falls short in these other categories."
Source
(Conveniently, there are tests like this one
to diagnose which one of the
EQ, MQ, and BQ you excel in!)
As stated in one of my posts
here
, an education is not meaningless, but it gives little advantage to those without both an average to high IQ, and other traits as well. . .meaning,
an education for the majority of minorities in this country is a waste of tax dollars, and only raising expectations of these poor people. It is simply an exercise in competing for status and equality. . .when there is none.
So being unable to keep up and feeling forced to comply with standards of intelligence and conduct of the less aggressive white kids, the dark kids will predominantly be made to feel shamed and inferior.
Causing a high rate of drop outs and frustration.
Take away the integration though and it is even worse for black kids! The pointlessness of an education for most blacks is seen clearly in the schools in the lest mixed blacks, in Sub Sahara Africa.
Only from pressure and charity from white countries do most more pure areas of Africa even have schools, as
none of the countries can afford the schools on their own
.
Back to the topic of different quotients
needed for success though.
My last post dealt with EQ, the one before dealt with BQ (by way of obesity) so we will deal with Moral quotent, or MQ next.
"MQ [often called spiritual quotient or SQ] directly follows EQ as it deals with your integrity, responsibility, sympathy, and forgiveness. . . Keeping commitments, maintaining your integrity, and being honest are crucial to moral intelligence."
Source
In fact, MQ or SQ doesn't just follow EQ,

mixed with IQ, EQ IS SQ!
Moral (MQ) or spiritual IQ (SQ), according to my research for a past post, is controlled predominately (but not completely) by a chemical called testosterone, which influences how selfish, likely to lie, likely to want revenge, as well as how committed to relationships you are. . .although it's negative aspects seem to be moderated by a high IQ.
As I've already discussed testosterone levels, which differ dependent on your race (as seen clearly in my 4th post of this series), let's get into another hormone that seems to control the rest of the moral/spiritual behavior, next. . .