What do patterns seen in stats, studies and the evidence around the world show us is clearly coming in the near future in America?
While it is clear by the opinion polls that the
U.S. economy is equally fair to the poor, women, blacks and Hispanics
. . . Yet however, all four groups are treated better than the white middle class. It is this that is part of the problem, but not the whole. The white middle class is the main tax paying base, educated white collar workers, bosses, and those not being dependent or causing trouble with the law. As we hurt them, we hurt the country. . .and when they are poorly treated, they leave.
So not surprisingly, according to a government (NASA) study, our civilization is headed for an irreversible collapse, and their take? It is all the white elite's fault. They are convinced that the wealth inequality that we see before the fall of every civilization is a sign of this collapse, and while there is no question that they are right. . . their solution to it is not.
They suggest that only by the wealth being redistributed around to the poor, can we change the inevitable collapse. Hello folks, that is what we have tried before, it's called communism.
The rationale of the Communists was that if inequality could be eliminated then there would no longer be any need to have a government. Read more about the misconceptions of communism, and how it evolved into Marxism, and socialism in my link.
Source
A more popular offshoot of all of them is called cultural Marxism, which like the others, seeks to make equality. I have spoken more on that subject in my post:
The origin of miscegenation is cultural Marxism. . .and it will be the ruin of America.
As I also mentioned in my post:
The parasites of Dying civilizations
, it is not the wealthy that have destroyed civilizations in the past or now. . .
Inequality comes from different inherent and genetically based IQ.
When a civilization with high IQ gets an influx of low IQ people, due to a slave trade, or otherwise, it will consequently bringing up the crime, while making the middle wage jobs into low wage jobs and the high wage jobs even higher. The stats on this are clear around the globe, and down through history.
Obvious flips in IQ demographics from high (90% white), to low (90% black) show this genetic inequality quite clearly. Examples of this are in places like Miami and Detroit that were set up by and flourishing with white populations, then replaced with ghetto blacks and promptly in one generation destroyed
.
Inequality may seem to destroy civilizations in part, but it has nothing to do with the elite who are rich, and have a high IQ. Anymore then a fever or cholesterol can be blamed for your health problems. They are simply in the wrong place at the wrong time and get blamed.
"Whereas the ghetto black is the community where 3% of the US population (black males between 18-49) commit over half of the country's violent crimes and murders. . .A community that ranks at the bottom of every single measurement of achievement. "
"Why is this? Racism and oppression from whitey? Hardly! It's because ghetto blacks WANT to live like they do. No one holds a gun to their heads (except other ghetto blacks) to make ghetto blacks drop out of school, have illegitimate children at a 70+% rate, commit crimes at multiples greater than other races, join gangs, have the highest percentage on welfare and social services (39% while making up 12% of the US population), etc."
"No other race in America riots and loots, burning down their community when something doesn't go the way they like. White people are attacked daily in horrible incidents of violence at the hands of blacks but no one burns down their local Quik Trip. Doesn't even enter the realm of possibilities."
Source
While people (especially defensive blacks) are grasping to blame big banks, racism, the elites and unfair wages, the destruction of Detroit, as well as many other civilizations is clearly none of those. . .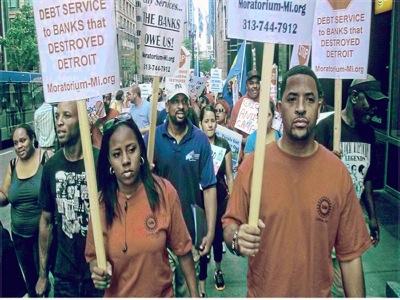 Sadly, "diversity" and integration with blacks brings with it bad side effects because of the level of violence blacks show, stemming from a higher testosterone and passion.
Thus "diversity" or multiculturalism looks a lot like it does in nature. . .with the strongest attacking the passive.
The more the originally white countries mix with these low IQ blacks, and the more the elite marry among themselves, selecting for intelligence, as they always have, the more they will excel. While the more the rest intermarry, the more our civilization will dumb down and this will be evidenced in the job market and economy.
The inevitable side effect of diversity is increased inequality with the rich getting get more rich, while the middle class whites will vanish and join the poor minorities. The country's available jobs will look like this job chart in Washington. . .
This mixing and consequent "dumbing down of America" is also seen in the religion rates around the world.

(knowledge has grown and understanding our past and the mind has also grown, while religions have been seen to have patterns and similarities, consequently many very intelligent and educated people in 1st world nations have dismissed all religions as myth. While others take it further and trace religions to their common source in Sumerian text. . .I believe religion has gone the way of all evolved beliefs, but was originally speaking of real events. . . )
The European nations, as well as the Asians (all the high IQ people in the world) are highly Atheistic, while the lower the IQ of the nation, the more they are religious. A good way to show the downfall of the IQ, is to trace religion stemming from low IQ, as it has been linked to from the time the missionaries went to Africa.
So, as the minorities infiltrate the country, we see our religion rates go up, while Europe's have gone down. This is based on numbers, not percentages of their population. Africa is almost completely religious now!
According to pew forum: "As a whole, Christians are older. . . than the overall global population. Among the six regions analyzed in this study, Christians are youngest in sub- Saharan Africa, followed by Latin America and the Caribbean, the Middle East and North America. Europe has the oldest Christian population."
Source
Source
The fact is, the older people raised in religion are not keeping up with news that debunks their upbringing, as they don't want to change or have to admit they were wrong. While otherwise those in first world and educated white countries are falling away from religion at a rapid rate. This is true in all places that are not predominantly dark. Numerous studies show that the higher the education, IQ, analytical thinking you are, etc. the more likely you will be non religious.
Those
who are those pouring into this country at a huge rate from Mexico, as well as those blacks who have been here (breeding like rabbits from the start of the slave trade), both have an average very
low IQ, and are both much more religious. So while we educated white Americans from the time of the founding fathers would like to think that science will see the death of religion (as there are clear signs of happening in Europe, and with the elite and educated in America), unfortunately religion flourishes as long as there is a low or lowering IQ. And where is that lowered or low IQ all stemming from? If you are a visual learner, this will help you see the big picture.
Here is where the Sub Saharan black slaves came from and went to.
Everywhere that has been majorly touched by admixture with Africans, due to the transatlantic slave trade, as well as
the eastern slave trade to eastern Europe
, can be seen as having a low wage on this next map (as well as a low IQ, seen as mostly orange. . .except North America and eastern Europe. The numbers and percent overall in the white populations were still small enough to have not made a big effect when this map was made 16 years ago. . .)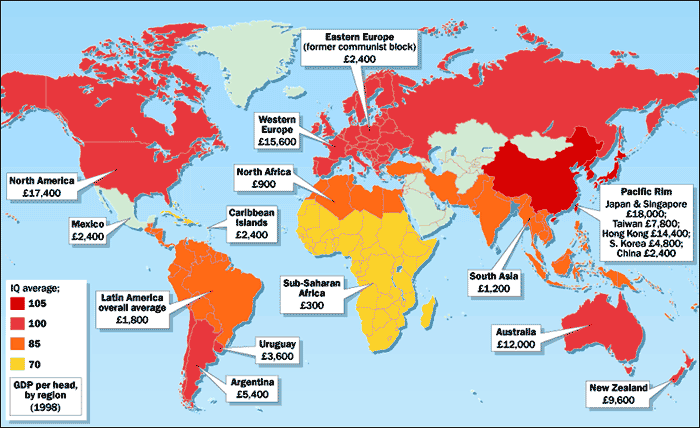 "The dumbing down of America" (the 90% white America of the past) and it's subsequent destruction is a fact, and because of "African intelligence", whether we want to admit to it. . . or not.
(Warning, link will likely turn your stomach and make you want to run away from America screaming.)
This dumbing down can be seen happening from ancient times, but instead of measuring IQ or what it effects to gauge intelligence, scientists have measured sculls. As head size is linked to brain size and intelligence, elite Asians and whites having the largest, it has come as a shock that we modern Americans have a smaller head/brain size then the original white man, the Neanderthals. . .something I discussed here as connecting to mythology and archaeology.
Of course, when you add a bias of a high education, and thus add in the elite mixed of every population, these racial differences are nearly gone. Yet the fact is, without trying to excuse away the typical stereotypes, there are big differences in head sizes and IQs in the blacks and whites, from birth, and using MRI's and weight. In fact, there is a gene associated with brain "growth".
Scientists would say, "The gene microcephalin (MCPH1) regulates brain size during development and has experienced positive selection in the lineage leading to Homo sapiens (Zhang, 2003; Evans et al, 2005). Within modern humans a group of closely related haplotypes, known as 'haplogroup D' arose from a single copy at this locus (Evans, 2006). Globally, D alleles are young and first appeared about 37,000 years ago; with high frequency haplotypes being rare in Asia, and particularly Africa. The highest frequencies are seen in Europe/Eurasia." "It should be noted that the fossil records suggest that brain size in humans - particularly Europeans - has decreased over the past 35,000 years, and on through the Neolithic period (Frayer, 1984; Ruff et al, 1997; Woods, et al, 2006). Interestingly, the selected variant of MCPH1 is thought to have arisen about 37,000 years ago (Evans et al, 2006)" They foolishly conclude that seeing this brain mutation gene come in and then shrinking happening soon after. . . that makes "it a candidate gene responsible for this general decline (Woods et al, 2006)"
Yeah, it's quite obvious that those without this mutant brain gene, in Sub sahara Africa, are the origin of big brains and intelligence. . .if you believe that, I have some ice to sell you! So seriously, get real people! For an open debate of this topic, and a "closed case" on the side of genetic based IQ, check out
here
.
Consequently, the more the Neanderthal blooded parts of the world (whites) mix with the homo erectus part of the world (blacks), the more we shrink. . .to the small brain size of the homo erectus. (Homo erectus has only been found in blacks. While pure sub saharan blacks have no Neanderthal in them. . .)
While this picture is trying to show an evolutionary worldview change from the black colored skin to the white colored modern man, that is conjecture. Even the scientist who made up this theory of out of Africa has had to reexamine it because of DNA. More accurately we can see the coloring according to DNA, to be this.
Homo Erectus
Neanderthal
While on average our white population's brainsize is shrinking, they have also studied a (not surprisingly) gain in a small group of the population: the 13% of Black's.
Their brains/headsize/ IQ have all been *magically* growing from the time when they started legally mixing with whites.

(Around 1960) This is called the Flynn effect, and cultural marxist liberals actually use this fact to discount and throw out the IQ gap between whites and blacks as "insignificant". Saying it hardly matters, because it is closing anyways!! Really?! Read more about it here.
Explanations for the increased IQ have included improved nutrition, a trend toward smaller families in industrialized nations, better education of the poor, greater environmental complexity, and
heterosis
(the occurrence of genetically superior offspring from natural selection). Flynn and a colleague argued "that the measure "heritability"[of IQ] includes both a direct effect of the genotype on IQ and also indirect effects such that the genotype [i.e. being a smart white] changes the environment, thereby affecting IQ. That is, those with a greater IQ tend to seek stimulating environments that further increase IQ."
Of course we see this to be true to a small degree (like 5 points) but the effects are generally not lasting, or without admixture. When the schools of Virginia closed to avoid government imposed integration, the black kids lost the slight increase they had had.
Source
While there are lots of folks looking to excuse away IQ as meaningless, the fact is, IQ (which is tied to brain and head size) is intrinsically tied to and correlated with the wage of a population in general, as also seen in the above map. (And it is a fact that whites and Asians have the biggest heads and brains, as well as the highest IQ's.)
For this reason, artificially raising the wage of the low IQ minorities by wrong priorities of entertainment, giving charity, bail outs, incentives or having labor unions like in Detroit, have (and will) solve nothing, more then temporarily. . .
This is because those who gain riches through playing sports or winning the lottery (or otherwise not earning it by their brains) never keep it, but swindle it away with foolish living. In fact, between 60% and 80% of athletes in the NBA and NFL go bankrupt within five years of retirement, despite making an average of $5.15 million and $1.9 million per season. Not surprisingly, about 70 percent of those teams are black. . .coincidence?
College sports players who are black are also lagging behind academically compared to their white team mates, with only 50% of them even graduating and going on to play for the pros.
This obvious lack of intelligence (not just "unfair" IQ testing) correlates to those who are getting the smart sports jobs as well. Though we know for instance that football teams are dominated by strong, testosterone pumped black men, who are frequently in the news for their raping and criminal behavior, the smart position (the quarterback) is generally held by a white guy. Also, only 12 percent of coaches and athletic directors at the top 25 Bowl Championship Series colleges are black.
Source
Another example of how those not earning money with their brains generally just can't handle money is the fact that 70% of all lottery winners are broke within a few years of receiving their jackpot.
The odds of winning being so low, and it being a silly waste of your money, most intelligent people don't even play the lottery I have found. Like the saying goes,
"A fool and his money are soon parted."
Whereas, you can take a rich and smart (generally white) person away from their money, and most often they will make it again. As a matter of fact, stats tell us many smart self-made millionaires have been bankrupt on numerous occasions in their lives, and made it back! Some of the more famous ones are
here
.
The sad fact is, those with a low IQ can't help being poor, because they will not make wise choices. Just like a poor man who begs for money and then spends it on drugs, cigarettes or alcohol, an idiot can't be helped with lotteries or charity into living like a smart person.
Knowing this then, to ask a dark person or anyone with the mentality like a child to be responsible for their unwise choices, (that most often led to their poverty. . .)is illogical of smart people.
In a similar way, asking a black person with at minimum, 15% higher level of testosterone not to act irrational and passionately, is like asking a woman in PMS not to have passionate big emotions. High testosterone can fuel anger and sometimes rage. .
.
causing
irrational, low impulse control but also raging passionate desire. (Thus people with low libido actually supplement with testosterone to get the passion blacks have naturally! Which is no doubt why their rape rate is out of control, as well as babies out of wedlock.)
This testosterone level for woman though is highest right before ovulation, but actually is building and high your entire period as well. This chart is very helpful to understand the mood swings of woman. . .they basically turn into a slightly black person for part of their cycle.
So if you want to deny testosterone's guaranteed effect in blacks, you will have to deny it in PMSing woman too. . .and I think we all know, that is irrational.
Source
Source
So in conclusion:
What does multiculturalism and diversity cause? It:
brings down the IQ, though this is unpredictable. . .

increases inequality of wage, and brings unemployment to many of low IQ status.

makes more religion, that both is useless and divides

increases the population, as the blacks and mixed generally have more passion, and less impulse control. . .

(caused by) increases testosterone which in short, increases crime and destroys civilization.
What will this look like? Well, conveniently, a number of other civilizations, both anciently and now, are perfect examples of what happens when you mix passionate and low IQ Africans in with them. It is sick and messed up. I am feeling nauseous already after all this negative stuff, so I will get into that in my next post. . .